ELECTRIC BICYCLE RENTAL
Sit down, relax and let the bicycle do all the work.  Prodecotech makes reliable, powerful electric bicycles right here in the USA.  You can choose between pedal power and electric throttle power.  We have small bikes for children and child carrier accessories for the little ones to hitch a ride with Mom or Dad.  Our electric tandem bike is a fun bicycle built for two that allows younger children to actively participate in the adventure and the fun.
Do I have to pedal?  No.  The motor and battery are powerful enough to use just the throttle, even from a dead stop.
Do I have to use the throttle?  No.  Our bikes are regular peddle bikes and do not rely on the motor.  However, you might appreciate the motor to help get started and for that little turbo boost to get across the busy intersections.  Completely rider's choice.  And...they're too fun not to use the electric motor.
Can I rent an e-bike for exploration of Savannah on my own? Yes.  We rent the e-bikes for your own adventure.  We send you with a bike lock, cup holder and basket if you choose. 
Our ProdecoTech Genesis v5 is a regular 26" peddle bike with a motor in the back wheel and a large battery that are powerful enough to propel the rider forward from a stop without having to pedal.  WARNING:  You will want to buy one!  We can help with that.  We are a ProdecoTech dealer and will be happy to discuss details with you.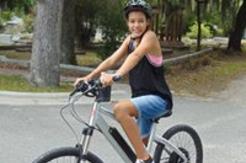 RATES:
20" or 26" E-Bike.         4 HOURS -- $35.00